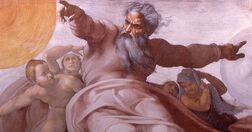 God is a name attributed to many different versions of the creator of the universe. They are the basis of many religions, and whether or not they exist is perhaps one of the oldest debates in Human history.
Common Jokes
Edit
God is often portrayed as an old man with a beard sitting on a cloud.
He is sometimes shown making nice little contributions to people's lives, like making all the traffic lights turn green or making a woman's top fall off.
Contrarily, he is portrayed as an asshole, causing needless suffering and handing out excessive punishments.
Many jokes involve people finding out that God is a woman or a different race. This is usually meant as a criticism of the common portrayal of God as an old white guy.
Going even further than that is the portrayal of God as something more unconventional like a cat or a shoe. This may be done for its ridiculousness or to demonstrate that there is no way of knowing what god actually looks like.