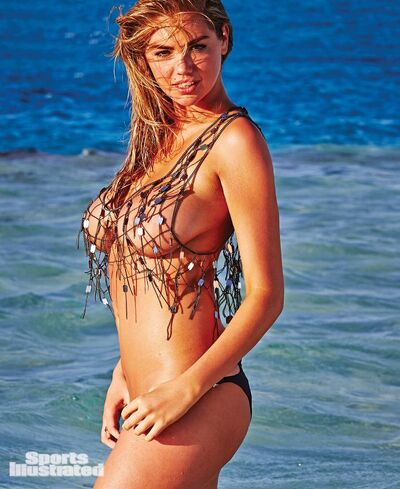 Kate Upton is a model and actress most well known for her appearances on the covers of the 2012 and 2013 Sports Illustrated Swimsuit Editions.
Common Jokes
Edit
Many jokes about Kate Upton are centered around her large breasts.
She is often praised for having a much fuller figure than most "stick-thin" models. This same fuller figure has led some people to consider her to be fat, saying she has a rectangular stomach (comparing her to things like a cereal box or Spongebob)..
Being a model, she is subject to most Model Jokes.
In the 2013 Sports Illustrated Swimsuit Edition, she posed nude and semi-nude in Antarctica, and suffered some negative symptoms due to the extreme cold. At the time, some jokes were made about either her or Sports Illustrated being reckless for having done this shoot.
After her swimsuit shoot in Antarctica, there were some jokes about Upton "upping the ante" by going somewhere more extreme and dangerous, such as a volcano. In 2014, Sports Illustrated had a shoot with her in zero-gravity, which was advertised as "Kate Upton in Space," further adding to that joke.
Kate Upton is also an expert boxer and practices a lot. She has a powerful uppercut that her victims call "Upton Uppercut."